Say it isn't so Joe
Clooney Shrugs Off Talk of Candidacy
.....
"Believe me, you don't want me in politics."
Please don't break our hearts George (sniff, sniff).
Old saying .... better to remain silent, than thought a fool. Bill me boy, Chris Wallace didn't make his bones on you. Condi however, is certainly growin' a pair.
Clinton did not leave plans to fight al Qaeda: Rice
British Forces Kill Leading Terrorist
.....
'My husband was kidnapped by America but they never officially told us ... for more than three years,' Mira Agustina said then. 'I don't believe that my husband was a terrorist. He is only an ordinary man who cried when he watched movies about violence.'

'I was shocked when news broke that my husband was a terrorist wanting to kill many people,' she said, adding that she told her two daughters that their father had gone off to America 'to work.'
(sniff, sniff).
Ouch, that's gunna sting a little ....
Tories' program cuts see $1B savings.
OTTAWA -
The Conservative government unveiled its plan yesterday to cut $2-billion in federal spending by eliminating a long list of programs ranging from research for medical marijuana to ......
Find the missing word(s)
Police Sweep Paris Suburb After Attack
PARIS (AP) -
More than 200 police raided a neighborhood Monday in suburban Paris where a band of youths attacked riot police last week and seriously wounded one officer. Twelve people were detained in the early morning sweep in Corbeil-Essonnes south of the capital.

A band of up to 30 youths armed with makeshift weapons attacked two riot police patrolling a housing project in Corbeil-Essonnes last Tuesday. One suffered a double skull fracture.
If you guessed Muslim or Islam, take two extra slices of bacon at breakfast :-)
Iran Minister: Nuclear Talks 'On Track'
Neocons enter newsroom, take over. Truth is published.

Newservice vows it will never happen again.
KISMAYO, Somalia (Reuters) -
Islamist fighters in the Somali port of Kismayo opened fire on Monday on residents who were burning tires, throwing stones and chanting to protest against the Islamist takeover of the city hours earlier.

A 13-year-old boy was shot dead while protesting, and two other people were injured as violence raged for several hours in Somalia's third biggest city, witnesses said.

"We have been taken over by extremists, the Islamic courts have taken us by force, and now they are firing at us," said protester Dahabo Dirie.
VR Gear Makes RC Airplane the Coolest Toy Ever
Thirty three comments so far on this Raw Feed story, about gyro directed camera, mounted on an RC airplane. Gyro in wearable headset/vr monitor, directs camera (with own gyro) view. All commenters bemoan current lack of commercial availability (homebuilt kit project), with a few 'cool's tossed in. Is it just me .... or is this the future wave of internet porn?
9:15 a.m.
Yesterday, when I joked that falling gas prices were Bush's fault (libs blame him for everything else, their stubbed toes, scrapes when they fall off their skateboards). I was after all ..... only joking. But little did I know ......
42 percent of Americans say Bush administration manipulated gas prices


Hoo Hoo Hoo Hoo Hoo Hoo Hoo Hoo Hoo
You're living in your own Private Idaho
Living in your own Private Idaho
Underground like a wild potato.
Don't go on the patio.
Beware of the pool,
blue bottomless pool.
It leads you straight
right throught the gate
that opens on the pool.
You're living in your own Private Idaho.
You're living in your own Private Idaho.

You're livin in your own Private Idaho. Idaho.
You're out of control, the rivers that roll,
you fell into the water and down to Idaho.
Get out of that state,
get out of that state you're in.
You better beware.

You're living in your own Private Idaho.
You're living in your own Private Idaho.

'All the King's Men' tanks at box office
With a disastrous debut weekend gross of just $3.8 million, the political thriller "All the King's Men" is the season's first movie with Oscar ambitions to open with a resounding thud. The film, a remake of the 1949 classic of the same name, had a production budget of $55 million and the studio spent many millions more on marketing the film.
Man, you got me on that one? I just can't figure it out. I know it wasn't Sean Penn's trip to New Orleans where he single handedly tried to bail out the city all by his lonesome.
Nope (or even slinging a scatter gun while doing so. As a card carrying member of the peace love and understanding brigade).
No, and it most definitely wasn't his trip to Iran either.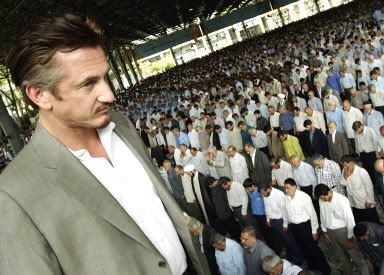 Or attending 'prayers' at a mosque there, where ten thousand Islamists exulted:
Death to America
. I sure am stumped.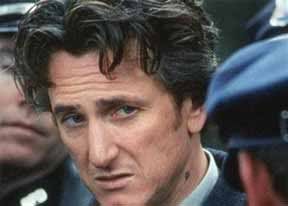 I really feel your pain there Sean. I really, really do.