The future is here.
Exactly which day it arrived, which hour, which minute? Who can say. But I can speak without any equivocation, it is here. It has arrived. The future. It is a big thing, a giant thing. It however did not arrive with a boom, merely a sigh. And it is not as wondrous, as spectacular as we had hoped, as we had dreamed. But then fantasy is just that. Not that I'm knocking dreams, or fantasy.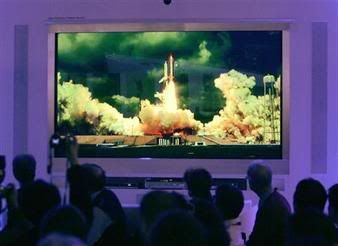 Panasonic 103" Plasma TV prototype, at the 2006 annual CES electronics show/convention in Las Vegas.
As a child growing up in the Southland, trips to Disneyland were a part of the fabric of life. Somewhere around '64 (?), they had a 'house of the future.' A modular orb type affair, elevated high off the ground, on a large oversize central pillar/post. All gleaming and shiny inside, but what blew me away? This little gradeschooler couldn't believe the telephone on display. Buttons .... holy moly, no rotary dial, buttons!
Somewhere in the interim, the defacto standard, the qualifier for determining the future. Was a wall sized television. It seemd like everything you read said: 'in the future, we will all have wall sized (flat planel) televisions' [as if this was the highest form of intelligent life/existence?]. It seemed oh so exotic, so .... futuristic.
There are two (possibly three?) different eight footers about as prototype, from a couple of different companies. But, you can walk into any wizbang electronics emporium, and walk out with a five footer without great financial distress. Seven footer if you're feeling Very proud (though likely an exclusive retailer would be on your shopping itinerary). No need to mention the information age and assorted hardware, it's expanding place in existence, in consciousness, or even the subconscious.
And of course, IBM's hardware division was sold to .... yep, the Chinese. As if that wouldn't make one feel, a little haggard and old. But now? Well hold onto your spill proof double wall stainless steel coffee mug.
You can now get that venerable icon of notebookery in (drum roll please) 'titanium' finish. Not just black.
I told you the future was here. What you do about it, well, that's your business. Me, inspite of the all the goofy two shoes that an agro neocon like myself encounters in life. And the oh so sorry state of world politic. I will not give up, I will not surrender. I will not spend the rest of my days anaesthetized in front of a glowing wall, watching regurgitated shite from Hollywood.