..
Denver (AP) Embattled college professor Ward Churchill today announced that he is gay. Churchill appeared at a hastily called press conference at the So. Denver, Sherraton Resort. Appearing with Churchill was his new bride Professor Steven E. Jones, a physics professor at Brigham Young University.
The couple announced that they had just been married in a secret ceremony among close friends and family members. They will leave early Saturday morning on their honeymoon. making stops in China, North Korea, and Iran.
This is Ward's third marriage, and Steven's first. They are registered at JewHatingCommieFucktards.com
'Open Post' from Mudville Gazette.
http://www.mudvillegazette.com/archives/003806.html
Outside the Beltway's, OTB Caption Jam, and also Saturday Traffic Jam
http://www.outsidethebeltway.com/archives/12649/trackback/
The Political Teen's, Open Trackbacks: Saturday
http://thepoliticalteen.net/2005/11/12/111205/trackback
basil's blog, Saturday Brunch: Dessert
http://www.basilsblog.net/index.php/2005/11/brunch-11-12-2003/trackback/
Wizbang!s Carnival of the Trackbacks XXXVII
http://wizbangblog.com/archives/007573.php
Thanks Basil for the trackback lesson!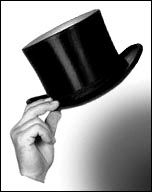 Addendum: Saturday, Nov. 12, 5:07 p.m.
Just released wire service photos of the wedding.
Do the Linky