Oh Garcon? .... Table for one please, Thank You.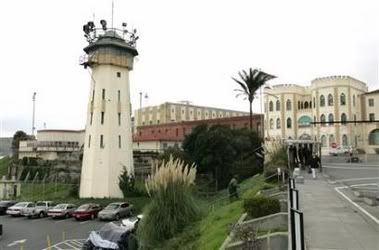 The currently uber-trendy California eatery known as Quenn's.
Guests are seen here entering the fancy restaurant.
The celebrated recipient of the shindig's feting .... Stan the Man (Toot Toot Tootsie Goodbye)
Soon the glitterati begin to arrive.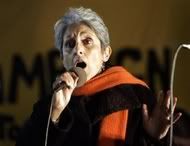 Singers ...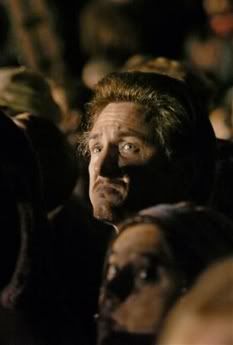 Actors .....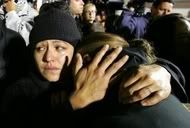 Actor and Singer J Lo (with equally famous caboose to camera).
One of the many paparazzi and international media personnel at the shimmering gala. Here, a "reporter" for the S.F.Chronicle demonstrates his investigative skills.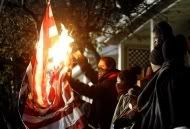 Some of the crowd who had gathered outside the spangly soiree.
Some brought signs (though I believe this individual left out an "A"?)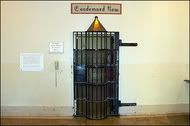 Inside the exclusive and swank establishment.
Thank You for waiting Mr. Williams, your table is ready.
Ah, at last ..... table for one. Now Tookie is really gonna be chillin' like a villin.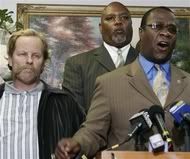 Another celebrity guest, the Nation of Islam leader, and producer of the future movie: 'Uprising,' Mr. T.M. (seen here with an ex-roomate of the guest of honor).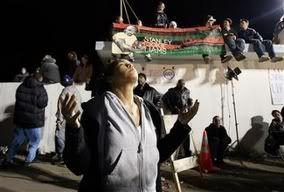 And yet a few more of the crowd outside the A list event, honoring the sainted Tookie Williams.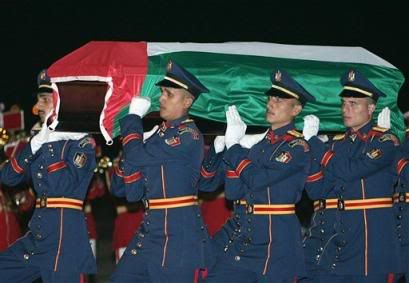 Well, it was indeed quite a party. Here the celebrity guest of honor [who had a little too much to drink (intravenously)]. Is helped to his car (hearse).
Some wave goodbye to their hero, the Tookster.
Call me a sentimental old fool, but I really believe Tookie heard ya girl.
Please tune in again here at the Anechoic Room, for future episodes of Celebrity Mass Murderer Roast (live from the Fryer's Club in Beverly Hills, California).
Addendum; 2:26 p.m.
It has come to Anechoic Room's attention, that a bad batch of LSD is going around the left blogosphere. So, please help get out the word, and save a lefty today.
Do not take the brown acid. We repeat, don't take the brown acid.
"SPI-DERS!" the guy was screaming. The Freak-Out Tent had its first patient. Nurse Sanderson wasn't sure what to do about psychic spider infestations. The Hog Farmers treated bad acid trips with physical stroking and soft words. She decided to do the same. "You learned in a gosh-darn fast way," she said. "You have to give them some touch with reality. You had to speak softly."
Open Trackbacks:
Outside the Beltway's, Tuesday Beltway Traffic Jam
http://www.outsidethebeltway.com/archives/12974
basil's blog, Lunch 12-13-2005/Dessert
http://basilsblog.net/archives/2005/12/lunch-12-13-2005/