Boldly going where no celebrity has gone before.
LOS ANGELES - An online casino has a piece of Capt. Kirk. Actor William Shatner has sold his kidney stone for $25,000,
with the money going to a housing charity, it was announced Tuesday. Shatner reached agreement Monday to sell the stone to GoldenPalace.com.
"This takes organ donors to a new height, to a new low, maybe. How much is a piece of me worth?" he said in a telephone interview. GoldenPalace.com is noted for its collection of oddities, which includes a partially eaten cheese sandwich thought to contain the image of the Virgin Mary. "This is a bold new addition to our fleet," GoldenPalace.com Chief Executive Officer Richard Rowe said in a statement.
Study: Not Every Hernia Needs to Be Fixed.
Well that's a relief.
Reports say Beijing plans Disney theme park.
Company denies any development 'at this time' [just until they can locate a U.S. factory, to make the all important cheap souveneirs sold at the amusement park. Planners realize that no one other than Americans buy cheap crap plastic Chinese stuff (why I myself bought one of those "just shake" flashlights with the linear magnet/coil, and white LED bulb. Brand new, in the package, two bucks. Yesterday, and I'm happier than a dog with two thingies).]
Trophy hunting endorsed as way to save lions.
American officials from P.E.T.A., could not be reached for comment at this time. But an elderly lion in Tanzania known as Snaggle Tooth, when interviewed for this story said: "we're really screwed now."
Another second call placed to P.E.T.A.'s offices, regarding this different story, resulted in the declaration: "no comment at this time."
Jailed terrorist demands transplant.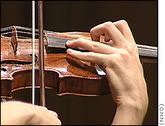 Violin shown playing for Ahmed al-Tamimi, is seen actual size.
Basil linked with: Picnic 01-19-2006/Items I found while perusing my blogroll/Anechoic Room follows Kirk, Disney, PETA, more.
http://basilsblog.net/archives/2006/01/picnic-01-19-2006/