Diplomacy vs. Armageddon. Hippies vs. Baby Eaters.
Yes, it is possible that Ahmadinejad will blink, and stop his weapons program. Open up all sites, make available all scientists, expose twenty years of clandestine preparation to become detroyer of worlds. But .... even if the little freak does blink. And confrontation stops in the immediate sense, I don't honestly believe that he will suspend every effort. Can a leopard change his spots? The world is deluded if they believe that a delay is equal to freedom from a threat of an Ahmadinejad helmed Iran. The chances of gaining total transparency are fairly close to nil. And I believe any promises of such are merely more of the same. Buying time, coming closer. To the bomb.
We'll wait a little longer. We will see. Come the day that bets can no longer be placed. Either Iran, its leaders, or its citizens end the threat. Or Israel, or the U.S. will. This is not a game, this is not a drill. War is here. That's the f*cking news.
Germany.
'Merkel says there will be no war with Iran'
..... she was determined to resolve differences with Iran and other nations peacefully ..... Merkel said she believed there was "a real chance for a negotiated solution" in the West's standoff with Iran over its nuclear programme ..... that not all diplomatic options had been exhausted.
Britain.

'Attacking Iran should be an option: UK's Tories.'
Military action against Iran should not be ruled out to deal with its controversial nuclear programme, The Times quoted Britain's main opposition Conservative Party as saying Thursday.

The newspaper said the party's defence spokesman Liam Fox told US Republicans in Washington that British Prime Minister Tony Blair should follow President George W. Bush's example and leave all options on the table, according to AFP.

"Every pressure must be brought," Fox was quoted as saying in a speech to the right-wing Hermitage Foundation Thursday. "But it was wrong for the European Union's foreign affairs spokesman Xavier Solana to rule out the use of force. It is wrong for Britain's Foreign Secretary, Jack Straw, to echo him.
France.

'Iran nuclear programme is 'military': France'.
French Foreign Minister Philippe Douste-Blazy branded Iran's nuclear programme for the first time Thursday as a "clandestine, military" project, AFP reported.

"It's very simple: no civilian nuclear programme can explain Iran's nuclear programme," he told France 2 television in an interview, two days after Tehran confirmed it was resuming sensitive uranium enrichment work. "Therefore it's a clandestine military nuclear programme."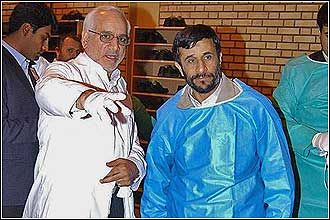 Dr. Strangelove and his pet monkey Moo-moo.
The diplomatic race to end Iran's nuclear weapons program.
Addendum; 8:11 a.m.
Ding dongs on parade.
'Cheney's "long list of medications": What did he take, and when did he take it?'