South Africa surrenders during the first recorded skirmishes of WW III
'South African court bans the country's Sunday newspapers from reprinting Muhammad cartoons.'
And at various cities around the world, including the Middle East, Europe, Asia, and the Pacific, other battles were waged. Numerous buildings being torched. You Go Mad Mo!
Nazareth, Saturday.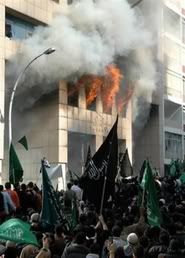 Danish consulate, Beirut, Sunday, Feb 5.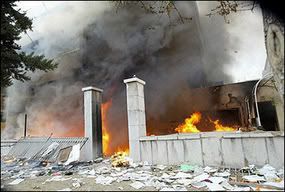 Danish embassy, Damascus, Sunday, Feb 5.
Related:
World War III Began Yesterday, October 26, 2005. But the World Did Little Note.