Shoot Your Television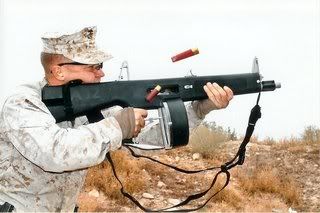 Yes, likely illegal in most U.S. locales. And if your neighbors live close by [and you like them (?)], might just be a little unsociable. But having survived series 'crafted' from a movie, (and) lately Yurrupean television shows, "news" events, blah blah [or movies digging through the remains of television (even), and/or comic books]. We are finally left with the naked unadulterated work product, from the creative environ/minds known as Holliswood.
A television show crafted from ..... (drum roll Please)
A F*CKING TELEVISION COMMERCIAL.
Geico's Cavemen May Get Own TV Series
AP-NEW YORK --
Those Geico "cavemen" shouldn't be so upset after all — they may get their own television series. ABC said Friday it had ordered a pilot for a comedy, tentatively titled "Cavemen," that features the characters used in a series of ads by the insurance company.
"Oh, the humanity!" - Herbert Morrison