It's Christmas I tell ya ....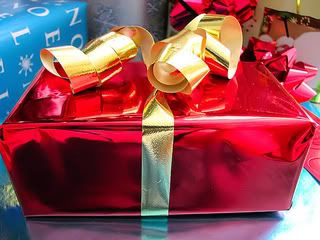 And
we're not worthy

.
Barack Obama's incoming administration is unlikely to bring criminal charges against government officials who authorized or engaged in harsh interrogations of suspected terrorists during the George W. Bush presidency.
[Duzz this mean they're going to delay construction of the (neocon blogger) internment camps?].
Then again ... I guess

perhaps some didn't get the memo?
A South Texas grand jury has indicted Vice President Dick Cheney and former Attorney General Alberto Gonzales on state charges related to the alleged abuse of prisoners in Willacy County's federal detention centers.
And still others, well ...

.
kindergarten through sixth-graders who want to say the pledge
[of allegiance] (have)
to leave their classrooms to do so
....



And really, I'm so fooh-keen glad we sorted this out

(stoked, chuffed even).
[Cuz you know .... you just can't have too many
President Bamboozuhlama
lifestyle pieces (ya really can't)].
.... President-elect Barack Obama has been looking pretty casual of late. Instead of the familiar dark suits and solid dress shirts, he has variously worn a baseball cap with a North Face warm-up jacket, jeans and white sneakers, and a black windbreaker that some observers assumed was leather but, more likely, was nothing fancier than cotton.
There are another fifteen similar paragraphs in the article, for those so inclined :-)