Whut I dihd on my sumher vacation buy Barry Soetero.
Whut I dihd on my sumher vacation buy Barry Soetero. I went on a big airplane, after I first bribed (threatened) the pilots on Air Force One. We then buzzed the Manhattan skyline (you shoulda seen them scaredy cats go. Run shimeys, run!). Afterwards, we played Monopoly with other people's money. I now own General Motors and Chrysler! Who's your daddy? (not bad for a poor kid from the slums of Indolulu/Hawainesia). Then later we flew to Vegas (yeah baby ... Mommy needs a new pair of French high tops), to inspect the wreckage and devastation, that my big fat mouth had wrought to the local economy (
you're on your own b*tches
).
And after staying the required 3.2 minutes, doing some o'fecial, high falutin, Presidential/gubment inspectin'. We busted a move to Hollie Wuud (partay!). Man you shoulda heard em clank, me ... Barry Soetero, Puh-resident, journeying back to where it all began. The cheers, the adulation (f*ck it was great).
Then? Well uh ... the Missus habbin threatenin to kick my ass (again). So I threw her a lil trip, two da great white way [man this President thingee is cool (cue Mase's Harlem Lullaby)]. We had dinner out and went to a Broadway show [it's always the same boring thing at the dddang White House (same old hundred dollar steaks. And them goofy f*ck Norks? Always setting off nuclear bombs and sh*t)]. I tell ya, even the Broadway actors dug it: "
I'm nervous, excited, honored
," said Andre Holland, who plays character Jeremy Furlow, before the show. "
It's like in Shakespearean times, when the king would come to the show
". Of course we then we jetted back, on one of my many super duper Puh-residential aerial conveyances. Just in time to head out to Cairo, Egypt baby!
Pyramids, camels, hookahs (that's what I'm talkin about). To pick up my honorary Pharoah degree, and maybe
lecture them about Democracy in America
... and possibly, go see a criminal left for maggot food, in a public square. After they've had their head chopped off [check out my cell phone pic! Waaay bedda than them Abu Ghraib snaps (trust me)]. Man this President thing is waaay cool. Well yeah, I did have to give em a speech, but then it ain't like I don't like to (after all, I am a speechifying mofo).
I said my usual nonsense, you know .... America bad, Jews bad, Islam great. Land for pieces (of dead Jews) ... blah blah blah. (And please don't tell anyone, but I made a lickety split, super secret, real estate scouting hop. Over to Madagascar, for
some

friends

of mine ...
).
Next stop .... Fwance where they speak Fwench, unlike in Merrikuh [and I hear they even eat snails ..... ewww (but you know ... with a smathering of Grey Poupon)]. And we stopped off at the beach while we wuz Frenchin it. Which we had all to ourselves (this President thingee is cool). And I said hello to a bunch of dead baby killers (hello dead baby killers). At this cemetery that they had next to the beach. After, we took my entourage (this President thingee is cool) to Germany. For a pit stop at Bakery de Buchenwald (try the bagels).
And when it was all over, we flew home on my partay palace in da sky (Ooh, the wheel in the sky keeps on turning ... I don`t know where I`ll be tomorrow ... Wheel in the sky keeps on turning). Even though I really wanted to
stop in

Rotterdam

, for some majorly cool, hip, really now,

urban planning tips

...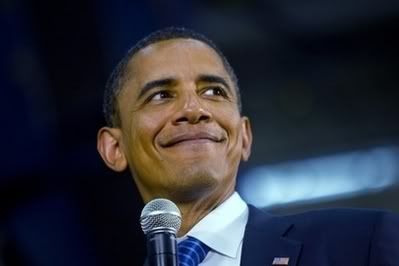 This izz whut I dihd on my sumher vacation, buy Barry Soetero.
(Rotterdam link via No Pasaran!).