Riot(s) 101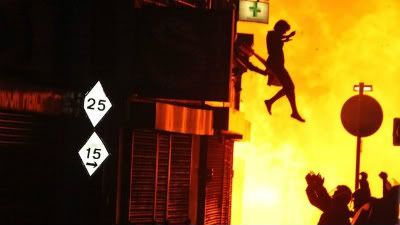 jpeg
Don't want to hold myself out, as some sort of riot expert, no. Here (@Anechoic Room), I write merely about what I know, what I have experienced. In the atomic. Or what I think/feel/see (when synthesizing/crafting all the disparate virtual bits, together, into a gleaming cube). Among the vaaaast infinity of life that I have experienced? Being front and center, of a real true firestorm. It, traveling at 3 mph, with hyper-heated sundowner winds (creating fuel air explosions in advance) hitting eighty mph, at peak.
Whoa elmo, three miles per hour? That doesn't sound very fast. Well, seeing a city wide swath of the earth, and EVERYTHING upon, for three miles running. Destroyed. Consumed. En toto. No houses, no trees, no engine blocks (in their place: congealed puddles of molten aluminum). Desolate, barren, smouldering. A freakin' moonscape. In a matter of minutes. Is Truly Biblical.
A)
And during such, guess what? Water pressure, more often than not ... is non-existent (now you know !!!). As everyone draws on, draws down, the available fire fighting resource. At the same time. In the same place/neighborhood [as opposed to NO fire units rolling/responding. To any locale. While looting or rioting is still uncontained (either way, you are f*cked)].
So chillin's, get YOU some of those commercial grade fire extinguishers. One in the garage, one in the bedroom, one in the kitchen, one in the attic, one in the yard/patio. Won't stop a major conflagration. But it will shut down the handiwork of some piece of dirt, doing Buraq the messiah's work (kill the rich/whitey).
B)
Got a swimming pool? A gasoline powered pump (and hose), are absolutely C R I T I C A L if you reside in a brush/chaparral covered hilly canyon. Timing is equally important. Do NOT wet down roofs and walls before the fire arrives. It will dry out way too fast. And, you'll be out of water. Wait. When the fire is upon, when it has arrived, when the flames are licking, go for it.
C)
The cause of the Rodney King riots? During which I was out and about (not as a participant, tyvm). Lots of finger pointing is underway this minute, regards London. The cause(s) meaningless. And some/many think they know the cause of the L.A. riots as well [you know underlying societal events (poverty/racism/the man/blah blah). And you can weight them in any fashion/scale you please]. There were two reasons/events, two triggers.
One, the price of a police uniform.
That was the first event on the horizon. Rodney wasn't beat because he was black. NO Sir. NO Maam. Nor because he was high (out of his mind) on juice/chem/bottle/Sherm/(elephant) tranq/PCP. No. Nor even zipping around on most every street and freeway in L.A., at 85 (in his Hyundai). With a dozen cherry tops in hot pursuit. No.
But simply, only because he was a quite sizable galoot. Who was tripping henry's, during a felony evasion traffic stop. And in turn, he refused to comply. With any, with all commands, during his arrest. Rather than physically engage this model citizen? And ripping, tearing, destroying their uniforms? (Paid from out their very own pocket/their family's pocket). At a then cost of a yard and a half. They merely took a hands off approach. It no more complex than that.
And two, the corner of Florence and Normandie.
Continuous live video going out, uninterrupted, for hours. Showing complete, total, and absolute abdication. A non-existent police response, to the violence (snuff television: Reginald Denny .... that mofo was on his own). It was only after the torch had been lit, the city already ablaze, people dead and dying. That a response was even begun (too late).
D)
I have never been more convinced, summer's gunna get warmer. Real f*cking warm. They are preparing the ground now [Tea party/whitey ... run away (no, no ... I gotta better idea, let's burn their houses, their cars, and their business'!)]. Pay attention to events. Please. Any possible triggers. Pay attention to the time of day, and what part of town you are in. Leave yourself an out ... on the bus/train, sit next to the door/exit or pop out window. Leave a gap/space in front, when stopped in traffic, a place to go, an out. Don't travel late, or alone. Unless you really, really are ready (and able) to throw down (don't so much as blink). Stay away from crowds, large public gatherings, or popular spots. When it goes down, and you're in the middle?
Keep any eye on your home and family, and your neighbor's [and your business if you must (Korean businessmen stationed themselves on the roofs of their business', and they weren't holding their puds)]. Stay off the streets. Leave the streets to the filth (and the National Guard really does have better things to do than have a lil chat with you). The Arab Spring is now morphing into the deranged Libturd Summer. The Nihilist Fall. And the Anarchist Winter.
E)
(Let's just call it ...) Global Warming.
YouTube direct link/URL
Addendum, Saturday, 10 a.m.
YouTube direct link/URL
Via Right Scoop (via Breitbart).
And more, via Kelly himself.
Things really are worse, much. Than anyone will admit. A failure, an epic failure. An extraordinary failure, of a scale unequaled. Of thought. Of imagination. Of vision. Watching the first minute or two of the vid? My G*d, that is really truly disturbing. Sickening. Revolting. Ugly. And things are only going to get worse. There are no other options. Pure madness, the stench of sulfur, choking evil, have taken refuge here. In America. And the exorcist? Well ... he's stuck. On the 405. With a leaking radiator (did I mention he forgot to charge his cell?).
Get ready people. This sh*t
IS
going down. And it's gunna take some of us with it. The Cleave Has Begun. 2012? Good f*cking luck even getting there.
All bets are now off.