Are we Not Men? We are Devo!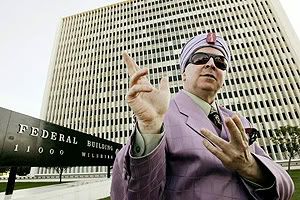 No, the name of Gerald Casale's new band is Jihad Jerry and the Evildoers. And no, I'm not making that one up. And, I don't know if he is making a political statement with the band name either (of whichever stripe?).
Largely ignorable article about his new online music launch.
Never cared for Devo, so I'm not going to go online and test drive a song from Casale's new offering. I just thought it sad/strange that he is A) Still playing dress-up. And B) Desperately clinging to tiny remnants of past fame
(though seeing Butch Patrick at the L.A. County Fair, year before last, selling autographs was more so).
I will however give Casale credit, for being able to wear that suit twice in one lifetime.
Yesterday's LP playlist:
1) Nat, the Christmas Song (later blue Capitol).
2) The Waynester, Danke Schoen (orange Capitol).
3) Elvis is Back! (33/box logo). Who needs the latest Manchester sound? "Fever" has nothing but a well mic'ed stand up bass, with a tiny smattering of drum occasionally tossed in. Atmospherics in spades.
4) Elvis' Christmas Album (early mono as well). Elvis lays down a fetching blues rock groove. Both albums have tight production values, but Elvis enjoys impressive freedom on both.
5) Hoagy Carmichael (an 80's MCA collection). Sometimes scary and intense. Almost always masterful.
6) Mahalia, Silent Night (red back Columbia). Solemnity, power, dignity, magnitude.