All We Are Saying, Is Give Peace a Chance
'Barghouti plans Palestinian ceasefire'
Jailed Fatah leader Marwan Barghouti was reportedly conducting efforts recently to get all Palestinian movements to hold a ceasefire with Israel. According to a report by the Palestinian news agency Ma'an, Barghouti's initiative would have the Palestinians declare a ceasefire unilaterally.
Maybe it's lonely in jail? Maybe he thinks he's got a shot at a Nobel? I don't know. I do know that all the hate in all the Islamist hearts and minds, all the hate on the ground and in the air. Is not going away, is not going to disappear. It is here to stay. For how long? Your guess is as good as mine. Twenty years? Fifty? A hundred? One would be hard pressed to accurately predict any facet of life two centuries from now. But this hate, this hate endures. It is not natural. It is not of this earth. It comes from a darkness that is not human.

All We Are Really Saying is, Give Peace a Chance ..... (But Only After We Kill the Jew).
'Egyptian paper praises Tel Aviv bombing'
State-controlled Al Gomhuria (regards) Monday's suicide bombing: The United States and European Union's cutting off funds to the Palestinian Authority because its Hamas government refuses to renounce violence (?). "For all that, the sacrificial and martyrdom attack occurred in the heart of Tel Aviv, and there will be more later."
And .... just to show you that we not only talk the talk. But, we also walk the walk.
(And don't you forget it). 'Saudis agree to give (Hamas Government) 92 million in aid'
Saudi Foreign Minister Saud al-Faisal, confirmed the fund transfer on Wednesday during a press conference with Palestinian Foreign Minister al-Zahar. The two men discussed the dire financial situation of the Palestinian Authority and its demands for Arab aid exceeding the amount promised at the (March) Khartoum summit. Al-Faisal promised to pass on Palestinian demands for more aid to King Abdullah.
Via http://www.iris.org.il/blog/
On dhimmitude, stupidity, brainlessness, and overall moronicity.
'British Euro-MP condemns Israel's apartheid policies'
A British member of the European parliament, Liberal Democrat MEP for northwest England Chris Davies: after visiting Auschwitz concentration camp in Germany last year, he found it "very difficult to understand why those whose history is one of such terrible oppression appear not to care that they have themselves become oppressors."
Ummm, gee Chris, you got me there, I haven't a clue. Maybe we can get some help .....
Bueller? Bueller?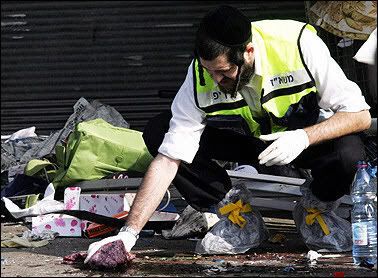 Mohammad (L) and Ganan Najarhai read a booklet about female suicide bombers as they sign up to volunteer as suicide bombers, during an exhibition about Hamas at the former U.S. embassy in Tehran, April 17, 2006. (Morteza Nikoubazl/Reuters)
Iranian men fill in the papers of registration indicating their readiness for martyrdom, or to carry out suicide attacks against Israel, at the former U.S Embassy in Tehran, Iran, Monday, April 17, 2006. Iran said Sunday it would give the Palestinian Authority $50 million in aid, moving in for the first time with money after the United States and Europe cut off funding to the Hamas-led government. (AP Photo/Hasan Sarbakhshian)
The Mudville Gazette's Open Post