Hello Operator. Yeah, about my phone bill ....
$218,704,318,406,225.16
The horror, the horror
'Comcast, Sony to Debut New Horror Channel'
PHILADELPHIA -
Comcast Corp. and Sony Pictures Entertainment will unveil a new horror and thriller network this Halloween through video-on-demand, the first collaboration between the two companies under a deal to create new cable channels.

The as-yet-unnamed channel, to be announced Monday at National Cable & Television Association's annual The National Show conference in Atlanta, will feature over 1,000 horror and thriller movies and TV shows from the Sony/MGM libraries including "Silence of the Lambs," "I Know What You Did Last Summer," and "Panic Room." The channel, (is) to be offered free to digital subscriber(s).
Scientists in Iran invent time machine
Takes visitors back to the middle ages. Governmant anounces that all trips will be free of charge.
'Iran to launch women-only buses.'
Tehran, Iran, Apr. 10 –
Iran is set to launch a sex-segregated bus service in Tehran in the coming months, a semi-official daily reported on Monday. The hard-line daily Kayhan wrote that special 11-seater minibuses will be set up "in the near future" to transport women only. The report quoted the head of the Tehran Bus Company Mohammad Ahmadi-Bafandeh as saying that the minibuses owned by private companies would be driven by women.

Poor Hillary
'Anti-war protesters interrupt Hillary Clinton's speech at university'
Well actually .... poor audience:
PROVIDENCE, Rhode Island (AP) -
Anti-war protesters interrupted U.S. Sen. Hillary Rodham Clinton's speech at Brown University by heckling the New York Democrat for four solid minutes before police escorted them out of the auditorium.

Clinton was about eight minutes into her 50-minute speech, "Women Leaders,'' on Saturday night when an unidentified man stood and shouted "Is it leadership to support the war?''

He was quickly joined by two other hecklers as he stood on his seat and continued to criticize Clinton for her vote to authorize the U.S. invasion of Iraq and her subsequent votes to fund the war.
Via http://www.freerepublic.com
Can you imagine sitting in place for fifty minutes listening to Hillary yammer? (My apologies if you haven't had breakfast yet).
"Islam is the solution"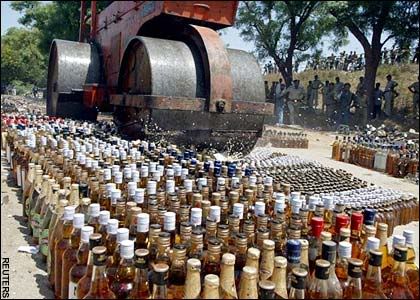 'Rise of Hamas concerns brewers'
For Buthina Khoury, whose family owns the only brewery in the Palestinian territories, the election victory of Hamas carries risk. Hamas advocates a strict, fundamentalist interpretation of Islam, one in which alcohol would presumably be forbidden.

Now Hamas has some Palestinians concerned it will move to ban alcohol and impose restrictions on women. Khoury, a member of the Palestinian Christian minority, predicts Hamas "will change our social lives." She expects beer to be banned and women to be required to cover their heads.

Farid Dibwani's textile shop in the West Bank city of Ramallah has become a hub for popular new "slip-on" head scarves. "I can't sell a bolt of cloth, but (head scarves) are hot," Dibwani says. Likewise, Ala Salhab's family owns a lingerie shop in downtown Ramallah. Turkish-made bustiers and black garter belts are gathering dust on the shelves. "Our new best-selling item is the (head scarf)," Salhab says.
Be afraid. Be very, very f*cking afraid.
'First Muslim sorority hopes to form chapters across USA'
Christine Ortiz slips quietly from the Muslim prayer room on the campus of the Massachusetts Institute of Technology and into a group of squealing young women. Some of them are Ortiz's Muslim sisters, the undergraduate pals who embraced her when she converted to Islam from her family's Roman Catholicism.

Less than a year after she graduated from MIT, Ortiz, 23, has returned to campus on a chilly night to help introduce them to a new concept in Muslim sisterhood: the first Muslim-oriented sorority, Gamma Gamma Chi.

The sorority, which was formed last year, has no campus chapters but is trying to drum up interest with informational meetings across the nation. It aims to be a sorority unlike almost all others by adhering to principles of Islam: no alcohol and no casual mixing between men and women.

Can you feel the love?
From my referrer's log a couple of days ago.
Web Search Results for "kill elmo"
...
5:21 p.m.
Yeah Baby!
Zoom, zoom (Mazda eat your heart out).
Via OTB, and Boing Boing.