Life's a b*tch and then you die
.
'Scientists Puzzled by People Who Begin Speaking in Foreign Accents'

Seeing Susan Bowen in Alpena, Mich., gives little indication that anything is unusual about her. (But) when she begins to speak, her strange secret is revealed. "I go grocery shopping and the clerk will say, 'You're not from around here, are you?'" About four years ago, Bowen began speaking with a strange foreign-sounding accent, and she says she has absolutely no idea why. "Many doctors have told me, 'There's nothing wrong with you,' but I know there is because this is not normal."
Variation on a theme
'Well-Known Rockwell Painting Discovered'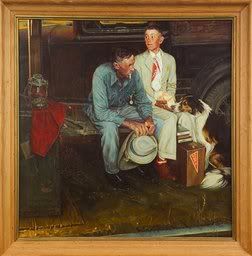 One of Norman Rockwell's most famous paintings was found hidden behind a fake wall in its owner's home, proving that the version the owner had long displayed was a forgery, family members and experts said.

They believe that the owner, illustrator Donald Trachte Sr., made the copy of "Breaking Home Ties" himself. Experts said Trachte probably made the copy in about 1973, when he and his wife were going through a bitter divorce.

Fun with headlines
(... Darth Vader is pissed)
'Nepal's Opposition Defends Rebel Alliance'

Doctors create cure for the common hole in the head
'FDA OKs First Attention Deficit Patch'
WASHINGTON -
The FDA on Thursday approved the first skin patch to treat attention deficit hyperactivity disorder in children. The patch called Daytrana, designed to be worn for 9 hours, contains methylphenidate, which has been shown to help children with ADHD. It is the same stimulant that is in Ritalin.

Sciencedude is revealed to not be Englishdude
(just in case you were wondering?)
'MIT punks Caltech'
MIT students have pulled a masterful prank in an on-going rivalry with Caltech, sneaking on to the Pasadena campus and somehow stealing the Fleming Cannon, a 130-year-old, 1.7-ton piece of arsenal that was located in front of the school's admission's office.

The news broke on the Internet, where MIT students calling themselves the Howe @ Ser Company

(Howser, get it?)

posted a release saying that they'd moved the cannon "from the pits of Pasadena, CA. to sunny Cambridge, MA.
Well yeah, I think I got it ..... I'm just not too sure you did Sciencedude?