Democratic Underground Never Disappoints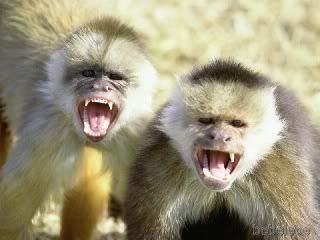 .
NORTH KOREA Has Conducted A Nuke Test
yet again... Bush is a dismal failure.
Quick MORE TAX CUTS!
It was inevitable ever since they were put on the "axis of evil" list.
Fuck Rove. No way they can pin this on Clinton.
This will push Foley off the front page.
Anyone want to start a pool? (My money would be on Bush going on vacation).
Wonderful........ (another Bush failure).
If true, this is DIRECT result of neo-con foreign policy.
Damn, That's Fucked Up (Bushco really, really fucked that up Big time).
Look for Jack Hanna's sequel in stores, in time for Christmas, titled .....
Monkeys on the Internet.
When is detonating a nuclear device not sabre rattling? ....
The

US

, meanwhile, has painted itself into a corner with its sabre-rattling.
Well the story is less than twenty four hours old ... so we still have some time left before the Mossad plot/conspiracy theorists chime in.
Human shields ...... this way.
7:50 a.m.

Fence? What fence ....

(we don't need no stinking fence).