Kiss me ... I'm Irish!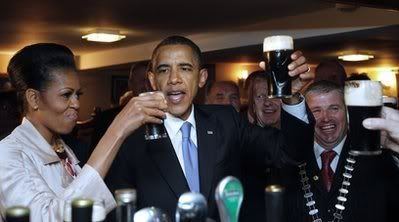 Now remember Michelle, it's important ... if anyone asks ... we're Irish.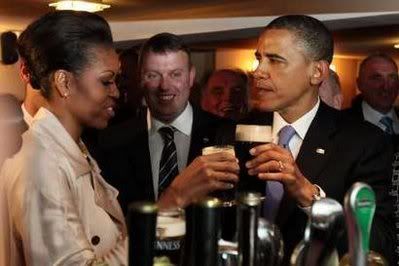 Man ... just four more of these puppies,
and I'll finally be able to get those friggin beer goggles working again.
Three down ..... two to go.
No use a'you crying in your beer Michelle ...
it was your idea to play Commander in Chief.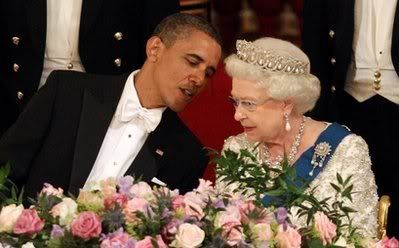 So whuddya say Queenie, when I'm done with Michelle
, I sneak on over to your pad? Parlez vous humma humma?
Now listen Chucklehead, just because you're f*cking America in the *ss,
doesn't mean anyone else thinks you're all that.
So what if he's playing the field ...
he said you look like Donald Trump girl. I'd take that as a compliment ... it shows he's paying attention.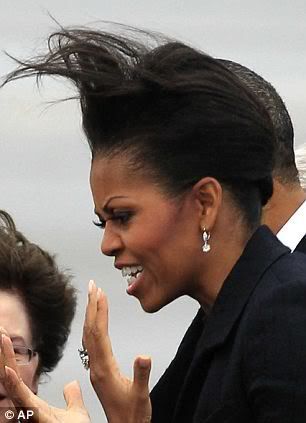 No you look b*tch, I don't spend millions,
and millions, and millions ... of the taxpayer's money. Just to be compared to a clown. I have feelings, I'm a sensitive flower ... who enjoys art.
I thought some of the metaphysical imagery was really particularly effective

.
Oh, and interesting rhythmic devices ... which seemed to counterpoint the surrealism of the underlying metaphor.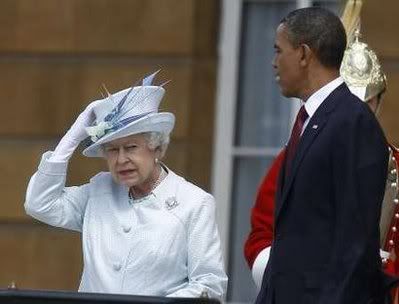 Oh by the way Queen, where can I get me one of them hats?
I gotta go to a party in Joplin on Sunday, and them whiney *ss b*tches already be jumpin in my stuff. Ali Velshi's covering for me, but I still wanna look fly.
And forgive me for correcting you,
but you're not doing it right Queen
... here let me show you how. First, put your hand down, and then pull
my
finger.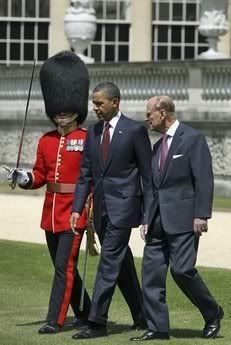 Is it something I said?
Just stfu and keep moving arsewipe ... keep moving.