Pennies from heaven.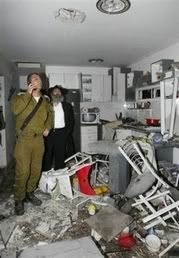 An Israeli army officer and a Rabbi, look at damaged house after it was hit by rockets fired from southern Lebanon in the Israeli town of Kiryat Shmona, late Tuesday, Dec. 27, 2005. Although Lebanon's Hezbollah group and the Palestinian Fatah denied involvement in the attack, Israeli jets, in response, attacked a militant group's training base near Beirut on Wednesday, slightly wounding two guerrillas.
a P.E.T.A spokesperson was not available for comment. And well rather quaint (as usual). On the one hand, AP actually states that the rockets came from Southern Lebanon. But on the other, implies that Hezbollah would never, could never do such (those mean Israelis).

Addendum; 9:30 a.m.
Was taking a peek at the JPost, and found this photo in the weekly slideshow. There's at least two ways of looking at the woman's countenance. Myself, see it as the longing for home, the spirit that resides in our hearts.
Deportation down 60% in 2005. Foreign workers from China and Moldavia wait at the Jerusalem Immigration Police station after being arrested for working illegally.
Myself, try not to take too much for granted, much to be grateful for. And while things may never be the detached model of perfection we like to hold in hand, and marvel at. This photo gave me quite serious pause.