Tell me no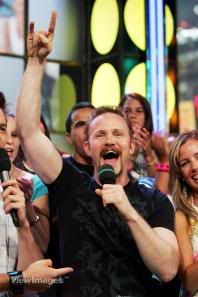 'Morgan Spurlock, Super-Sized Ass'

Filmmaker Morgan Spurlock (2004's Super Size Me), spoke at Hatboro-Horsham High School, during its first-ever Health and Wellness Fair. In his hourlong presentation before 700 students, Spurlock joked about the intelligence of McDonald's employees, using an Indian accent as he imitated a cashier trying to figure out how to ring up a Quarter Pounder. He also joked about "retarded kids in the back wearing helmets" and teachers smoking pot in the balcony. There actually were special-education students in the back row. Teachers led them out during the hourlong presentation.

Say What?
'Brussels Prosecutes Priest for Islamophobia'
- Paul Belien - The Brussels Journal
One of the rare churches that is packed every weekend is the church of Saint Anthony in Montignies-sur-Sambre ... to the south of Brussels. (Whose priest) Father Samuel, has been prosecuted for "incitement to racist hatred" by the Belgian government's inquisition agency, the so-called Centre for Equal Opportunities and Opposition to Racism (CEOOR), because of a remark he made in a 2002 television interview when he said:
"Every thoroughly islamized Muslim child that is born in Europe is a time bomb for Western children in the future. The latter will be persecuted when they have become a minority."

Last Thursday the Belgian judiciary decided that the priest will have to stand trial before the penal court in Charleroi. He reacted by repeating his time bomb statement and added that he would be honoured if he had to go to jail for speaking his mind.
Cry me a river. Laugh me an ocean.
'Enemies launching psychological warfare: Pres.'
- IranMania.com
LONDON, March 27 -
Iran's President Mahmoud Ahmadinejad said enemies intend to get concessions from Iran by launching psychological warfare. "It is high time they would be accountable for their crimes," said the president. "Enemies are against our progress and development and are unhappy with our acquiring nuclear energy."

"They should apologize to Iran for their insults." The Iranian nation following (the) Prophet Mohammad is after peace and tranquility in the world, said the President ... "a number of powerful countries have filled their arsenals with various kinds of weapons, imposing an atmosphere of intimidation on the world. However, we say it is high time the world would be cleaned up of nuclear weapons and peace would prevail over the world."
Ahmadinejad, seen here Sunday, in the city of Yasouj during the first day of his trip to the southern province of Kohkiloueh-va-Bouyerahmad.
6:55 a.m.
'Justice Scalia gives a sign, but no finger'
The king of all media:
'New Jacobs Study Say 70% Of Stern Listeners Stayed With Terrestrial Radio'
"Bone deep intellectual bankruptcy."
A lovely slam of those poor unfortunates suffering from BDS (who are defending Helen Thomas).