Top 100 Liberal Whines
1) Bush
2) Bush
3) Bush
4) Bush
5) Saddam is no longer president of Iraq (and gosh we really miss him)
6) Bush
7) Bush
8) Bush
9) Bush
10) Bush
11) America
12) Bush
13) Bush
14) Bush
15) Bush
16) Republicans
17) Bush
18) Bush
19) Bush
20) Bush
21) Bush
22) Schwarzenegger
23) Bush
24) Bush
26) Bush
27) Bush
28) State of Israel
29) Bush
30) Bush
31) Bush
32) Bush
33) Bush
34) Bush
35) Vice President Cheney
36) Bush
37) Bush
38) Bush
39) Bush
40) Bush
41) Bush
42) Diebold
43) Bush
44) Bush
45) Bush
46) Bush
47) Bush
48) Bush
49) Halliburton
50) Bush
51) Bush
52) Bush
53) Bush
54) Bush
55) Bush, Laura
56) Bush
57) Bush
58) Bush
59) Bush
60) Bush
61) Bush
62) Anyone who looks like Bush
63) Bush
64) Bush
65) Bush
66) Bush
67) Bush
68) Bush
69) Bush
70) Anyone who voted for Bush
71) Bush
72) Bush
73) Bush
74) Bush
75) Bush
76) Bush
77) Plants, shrubs and anything associated with the word: bush
78) Bush
79) Bush
80) Bush
81) Bush
82) Bush
83) Bush
84) Reality and the price of Kush
85) Bush
86) Bush
87) Bush
88) Bush
89) Bush
90) Bush, Senior
91) Bush
92) Bush
93) Bush
94) Bush
96) Bush
97) Bush
98) Bush
99) Bush
100) Uh huh, yep, thazz rite, Bush.
5:30 a.m.
What happens when years of corruption and sleeping with the devil end? When the people of your country elect murderers to lead them? What would the old leaders of such a sh*thole do? ..... Why give it back to the Jews of course!
JERUSALEM (Reuters) - Several top Fatah officials have asked President Mahmoud Abbas to resign, dissolve the Palestinian Authority

and return responsibility for the occupied territories to Israel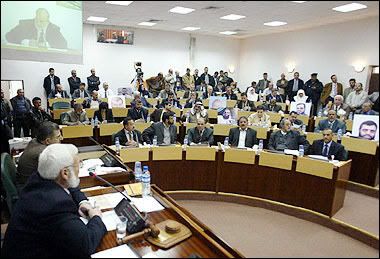 Recent meeting of the now Hamas led Palestinian parliament. Photo placards represent elected members, who are currently residing in prison. For the slaughter of human beings.
6:25 a.m.
Partisan politics in Holland, or ..... be careful what you ask for (workers in Red Light, now wearing Burkas).

The Brussels Journal, Paul Belien
-
Wouter Bos, the leader of the Dutch Labour Party (PvdA), is worried about the high number of immigrants in the ranks of his own party. Bos won the Dutch municipal elections on 7 March, by catering (to) the immigrants, who consequently tipped the balance in favour of the PvdA. Almost half the elected PvdA politicians in major Dutch cities where the PvdA is the largest party, such as Amsterdam and Rotterdam, are now Muslims. In an interview last Friday Wouter Bos said that he is worried about this situation.
And, via Real Clear Politics:
hatred of Jews is now a hallmark of what's cool in France, even among young immigrants from non-Muslim nations.
'Increasing Muslim Violence in Europe Is Not Being Reported'
Highly recommended.
Attention .... attention please. This is a special radio announcement: America bad, America evil. Bush very, very mean man. Won't you please help and save:
'The Innocent Vegetable Gardeners of Guantanamo' ?
Because after all, only your whining, crying, derangement, and non-stop America bashing, can supplant democracy with Sharia law. Please call 1-800- BlowMohammed now (won't you?). Imams with your very own personal fatwa, yes, enabling you to to engage in the Jihad of your choice, are standing buy. Have your credit card handy. Don't delay, the best fatwas are going fast.