'Top 10 Signs of the Impending U.S. Police State'
From secret detention centers to warrantless wiretapping, Bush and Co. give free rein to their totalitarian impulses
.
'

Is the U.S. becoming a police state? Here are the top 10 signs that it may well be the case

.'

1. The Internet Clampdown
2. "The Long War"
3. The USA PATRIOT Act
4. Prison Camps
5. Touchscreen Voting Machines
6. Signing Statements
7. Warrantless Wiretapping
8. Free Speech Zones
9. High-ranking Whistleblowers
10. The CIA Shakeup
A righteous laughfest the above link is. Yes, sometimes I DO feel a little bit guilty for some/all of the name calling I engage in here. Directed at liberals. I do know that many of em are nice folks, some misguided, some simply ignorant. Having a strong but unshakable belief in their shallow view of politic. Sure, name calling won't help a drop or even a dollop. Truth be told, some of the time I'm actually sticking it to myself. A combination of devilish laughter, and the joy of relief. That I myself no longer have such flat shallow, depthless vision. That I am left no more.
There are currently a hundred and thirty five comments in the thread, following the linked post. The points raised not even worthy of countering (well, I'm no fan of electronic voting. But that's not to say it is inherently inferior to mechanical, or that it like everything else is a Bushco plot). And no point in registering for the site, wasting time with a bwahaha troll. But bless their little hearts and even tinier brains. They remind me of the old bumper sticker back when local P.D.s and sheriffs actually used to go bust churches for bingo: "Keep Grandma Off the Street, Vote/Support Bingo."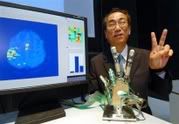 I'm confused, I thought it was da Jooos who had the mind control machines? Now this Yahoo/AP link sez it's the Japanese (funny, they don't look Jewish).
'

Honda says brain waves control robot

'
TOKYO -
In a step toward linking a person's thoughts to machines, Japanese automaker Honda said it has developed a technology that uses brain signals to control a robot's very simple moves.

In a video demonstration in Tokyo, brain signals detected by a magnetic resonance imaging scanner were relayed to a robotic hand. A person in the MRI machine made a fist, spread his fingers and then made a V-sign. Several seconds later, a robotic hand mimicked the movements.
Of course it could go someways to explain the hippy disposition of readily flashing the peace sign? Perhaps they are being manipulated by those evil cunning pacifist Japanese!
We can only guess what she'll threaten to do if she really gets pissed?
'

MP threatens to breastfeed in Parliament

'
ROME, May 25 (UPI) --
A new mother newly elected to the Italian Parliament is threatening to breastfeed in the House chamber unless a baby-care room is provided. Donatella Poretti, a member of the Radical Party, said she has been using the parliament building's infirmary to feed her daughter, Alice.

"At present I'm forced to beg space in the infirmary" she said in a letter to House Speaker Fausto Bertinotti. "Next Tuesday is an all-day session. Should I follow the doctors' advice and take Alice with me into the House or find a spot in the parliamentary lounge?" She said she hopes Parliament will set an example for other employers by adding a baby-care room to the many other facilities already available for legislators.
'

Man With Prosthetic Legs, Deaf Man Brawl

'
VALPARAISO, Ind. -
Two men who had driven around several towns for hours after meeting in a bar, ended up fighting after one of the men couldn't communicate directions clearly. Kent Hisey, 52, became frustrated by the difficulty of James Mills, who is deaf, in communicating, police said. They had driven from the Playboy Lounge in New Chicago to Portage, then Hobart - and finally to Valparaiso - communities spread across two northwest Indiana counties.

Hisey, who (drives with) two prosthetic legs, stopped his car at the Porter County Airport, got out and used his walker to go around to the passenger side, where he grabbed Mills to pull him from the car. Mills (then) pushed Hisey to the ground, causing him to hit his head. Paramedics arrived to treat Hisey's lacerations and take him to Porter Hospital. Police wrote a note to Mills informing him he was being arrested on a battery charge.

Officers conducted a field sobriety test on Hisey. His blood-alcohol level registered 0.16 percent. Both Hisey and Mills were taken to the Porter County Jail, where they were being held.

1:30 p.m.
Well, let's give Chevrolet credit where due. They finally fixed the problem with them retractable headlights (snicker). Now ..... about those removable hardtops.
'

GM recalls '05, '06 Vettes

'
General Motors Corp. will recall more than 30,000 Corvettes after customers complained that the roof flew off while they were driving the car. The automaker received 21 reports of roofs detaching from 2005 and 2006 Chevrolet Corvette(s).

(The) roofs are designed to be detachable by releasing latches. The unintentional separation occurs when adhesive that holds the base of the roof to the car frame weakens and fails, the National Highway Traffic Safety Administration said.

Owners with problem roofs may notice water leaks or a snapping noise when going over a bump. GM received 395 reports of partial separating of the roof, in addition to the 21 cases of it flying off.
The Mudville Gazette's Open Post