'Ted Kennedy Leaves Nothing To Chance'
'

Makes The Rounds With Children's Book, Gears Up For Election

'
(CBS/AP)
It was a dog day at Fenway Park as Senator Edward Kennedy and his Portuguese Water Dog, Splash, visited the old ballyard Wednesday for a school reading event. The senator read a portion of his new children's book, "My Senator and Me: A Dogs-Eye View of Washington D.C.," to a group of Boston-area school children. The picture book takes readers through a day in the life of the senator, told from the perspective of Splash .......
Excerpts from:
My Senator and Me: A Dogs-Eye View of Washington D.C.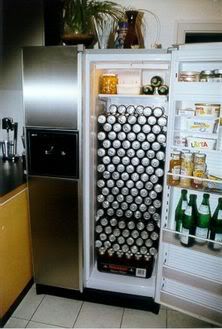 Page Two
(Splash): There is absolutely no truth to the rumour that my Master has a fridge full of booze, chilling in his D.C. Senatorial office. None. Or that he dispenses it freely to young interns during weekend pizza parties. Those are really Diet Pepsi's that you see.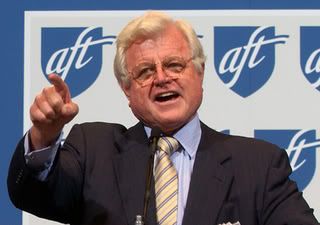 Page Five
(Splash): Also no truth to the rumour that my Master doesn't know his fore from his aft.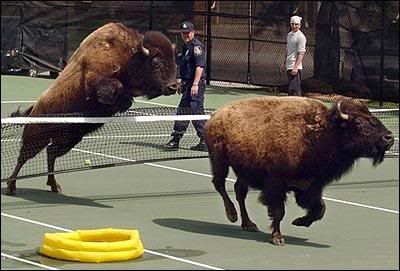 Page Eight
(Splash): Or that the Senator is out of shape. I personally know that he plays tennis once in a while. And sometimes he even wins! (Woof, woof).

Page Nine
(Splash): There is a lot of talk that my guy Teddy is a womanizer. But ..... as you can see from the photo, not every woman gets an official sign (wink, wink).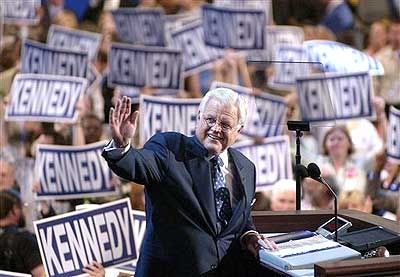 Page Ten
(Splash): Ooops ..... my book editor obviously is not very fluent in Portuguese Water Dog.
Page Twelve
(Splash): So many rumours ..... what's a mutt to do? No, my owner will not be starring in the leading role in the new fall series
Jabba the Hut
on Comedy Central. If (?) he loses his latest re-election bid. I'm telling you that right now, so that there is no confusion later. O.K.?

Page Fouteen
(Splash): A lot of you right wing wackos constantly make allusions to the Tedster being some kind of lush. Again, not true. How else would he be able to recall, and tell this little story he likes to call:
The highway patrolman and the Senator
? "And then that mofo'ing fascist puerco sez to me: 'follow my finger with your eyes'."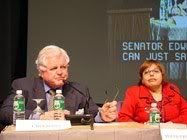 Page Eighteen
(Splash): Besides, it was Elmo who taught him the vodka in the water bottle trick.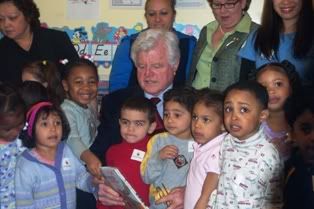 Chapter Two
, page twenty four (Splash): What can I say about the big guy ..... kids love 'em. Why just look at all their happy smiling faces.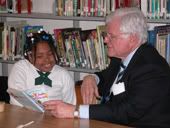 Chapter Two
, page twenty seven (Splash): They are ever so enthralled when he reads to them: "And the white guy died rich, fat, and f*cked up, the end. See, I told you it was a happy story."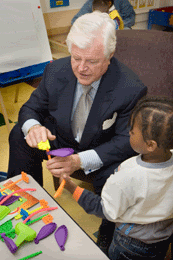 Chapter Two
, page twenty eight (Splash): And they are extremely appreciative when he shares his years of knowledge and experience with them: "If you add just a little dollop of Grand Marnier to a White Russian, it makes it ever so yummy. I call it a Tangerine Russian."
Well, I gotta run now. It's happy hour at the Capitol building doggie day care. And Thursday is Cabernet day (my favorite). So, I really hope you enjoy my new book. Ciao.
Panting and Slobberingly Yours, Splash

Friday, 7:00 a.m.
Don't say I never gave you nothing ..... O.K.?
'

The Office supplies trebuchet

'
Bored at work? Build your own 3" trebuchet out of paperclips and throw balls of blu-tac up to an amazing 4 feet. WOW!!
The Nation ...... who f*cking reads the Nation? Buncha pansies who take themselves farrrrrrrrrrrrrrrrrrrr too seriously. And in the ever so tiny intellectual vacuum that they occupy, provide none of the comic relief that say Juan Cole, Democratic Underground, or AlterNet provide. I haven't read
'

Why Haditha Matters

'
and I'm not going too. I could care less what points they raise/argue. What shite they throw. Or even what some first tier righties are saying in reply.
Haditha means one thing. Sure, yes it is a cleave for the Left to try and hammer a piton into. And for MSM to assist them in doing so. But should Haditha prove true (?), it simply will be the exception that proves the rule. That we are honorable people, an honorable nation engaged in an honorable task. As we have been, as we will be, all our days. Even during the long seconds and minutes of the darkness that was My Lai, emerged one Hugh Thompson to prove what truly lay in our hearts and minds.
Do not be deceived. The horror that is militant radical Islam, that attacks. That takes lives, that squanders them in a fashion horrific heretofore unknown. Will never take our spirit, our decency, or our humanity. In the rain of blood, in the wave of terror, we will never become them. Of this I have no doubt.
Outside the Beltway linked with OTB Caption Jam
/Other Humor: Anechoic Room knows what rhymes with Chappaquiddick.
The Mudville Gazette's Open Post