You Tube Purchases the BBC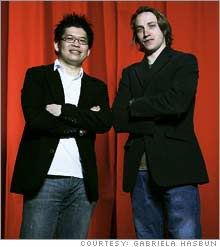 San Mateo (UPI)
Today, in a stunning show of the strength of the virtual world. The BBC was purchased for an undisclosed sum by the brash upstart internet video website company, You Tube. Chad Hurley, CEO of You Tube (seen above at right) said: "Most of our viewers are kids ..... aimless, directionless, lacking in knowledge and understanding. They come to our site for a sophomoric laugh or two. We want to expand our horizon, we want to show these kids another world. Not just surf wear or hip hop culture or lip synching."

"We want to expose them to middle school moral relativism, and show them it ain't all booz szhuwa zee nothingness. We want them to see correspondents with jowls a'filled with marbles, mealymouthing 'those dirty Joos' over and over again. Expose them to size fifteen commie women, wearing winter Chanel suits in the summertime, in Washington D.C. It is a turning point for the web," Hurley went on.

"Where else can you see such pomposity, such grandiose idiocy, micron shallowness parading as holy enlightenment? The Beeb is a shining example of unintended sick videocy, it will be a much treasured addition to our daily laughfest. Why in our very first broadcast last night, since taking over, we changed nothing. And yet our new stable mates really outdid themselves. Tripping over themselves to show just how really deranged ....... lunacy parading as news, from old media can be. Perfect! Absolutely perfect" he concluded.

Early reviews form regular visitors to the website were mixed: "ummm like those chicks are fat. Why don't they take some laxatives?" One junior high coed inquired (good question!). "And they talk funny" said another. "Wow, I never knew how bad those evuhlJooos were until You Tube bought that BabyC company, and showed us." Chimed in a third. "They have tanks and stuff, and they're scaring those Pally Stinians, that's just mean" said a fourth community college student, named Bryce, who is majoring in bong technology. "What did they ever do to them Jooz?"
Watching the BBC Bryce, we may never know. But we will say a prayer that the Beeb gets their air conditioning turned back on real soon.
(While this piece'o doesn't hardly compare with last night's loving tableau/homage to Israel.

Wherein the Beeb field reporter took us to a poor put upon Pale, and his aged mother in Gaza, Hamastan. Camera pointing out the window of their home, showing the Joootanks approaching. His children sent away, but poor grandma unable to flee the horrific sight. Oh, the humanity!)
Screen shots (via Tivo) from last night's broadcast: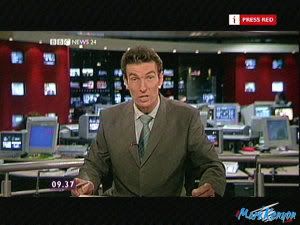 So tell me, are the Jooz really as evuhl as we lead people to believe?
Yes.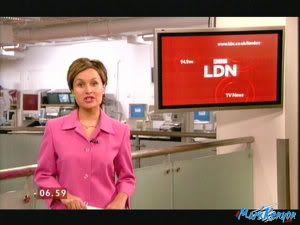 Yes.
Yes. Just look at this picture below ...... see the Israelis in blue trunks?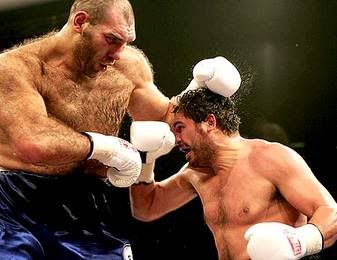 Why yes, I can see it on my monitor.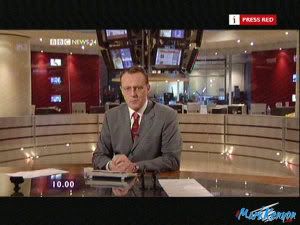 Can I chime in? I think they Jooz are evuhl too.
Thanks You for that in depth added report.
Your welcome.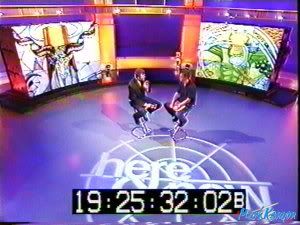 We just want to add that we heard that Jooish women were good in bed.
Extraordinary ..... but, my left wrist speaks volumes about which team I bat for. Besides that isn't necessarily a bad thing. Whose side are you on anyway?
Oops, sorry, Bush's fault.

1:10 p.m. In Context
'

Blind, deaf and dumb

'

In February, 2002, Arab terrorists in Gaza first managed to fire a Qassam rocket into Israel. Less than a month later, two Qassams landed in Sderot. That was the beginning.

It wasn't until June, 2004, that the palestinian Arabs finally succeeded in murdering an Israeli with a Qassam. His name was Afik Zahavi, and he was four years old. Also murdered was Mordechai Yosepov, 49. Afik's mother, Ruth, was badly injured in the attack and lost her leg. They lived in Sderot.

Between that first barrage in March, 2002, and the rocket that killed Afik and Mordechai on June 28, 2004, approximately 70 Kassams fell in Sderot. By the end of that year, there were 92 more, and two more toddlers dead.

And the numbers continue to escalate. Current estimates are that over 3,000 Qassams have now landed in Sderot, about 600 of them since Israel evacuated Gaza last summer.
From yesterday's Wizbang, with updates, covering most of the range of current events in Hamastan.
The Mudville Gazette's Open Post