The Jews are Coming .... The Jews are Coming (Run Away!)
'

In Wal-Mart's Home, Synagogue Signals Growth'
By MICHAEL BARBARO Published: June 20, 2006 The New York Times
BENTONVILLE, Ark. —
Residents of Benton County, in the northwest corner of Arkansas, are proud citizens of the Bible Belt. At last count, they filled 39 Baptist, 27 United Methodist and 20 Assembly of God churches. For decades, a local hospital has begun meetings with a reading from the New Testament and the library has featured an elaborate Christmas display.

Then the Wal-Mart Jews arrived.

Recruited from around the country as workers for Wal-Mart or one of its suppliers, hundreds of which have opened offices near the retailer's headquarters here, a growing number of Jewish families have become increasingly vocal proponents of religious neutrality in the county. They have asked school principals to rename Christmas vacation as winter break (many have) and lobbied the mayor's office to put a menorah on the town square (it did).

Wal-Mart has transformed small towns across America, but perhaps its greatest impact has been on Bentonville, where the migration of executives from cities like New York, Boston and Atlanta has turned this sedate rural community into a teeming mini-metropolis populated by Hindus, Muslims and Jews.

It is the Jews of Benton County, however, who have asserted themselves most. Two years ago, they opened the county's first synagogue and, ever since, its roughly 100 members have become eager spokesmen and women for a religion that remains a mystery to most people here.

Shortly after he moved to the area, Tom Douglass, a member of the synagogue who works in Wal-Mart's logistics department, made a presentation about Hanukkah to his son's kindergarten class. The lesson, complete with an explanation of how to play with a spinning dreidel and compete for chocolate coins, imported from New York, proved so popular that the school's librarian taped it for future classes.

For several years, many of the (members of the synagogue) had attended a small synagogue attached to the University of Arkansas, about 30 miles south of Bentonville. But the drive was long.

So in 2004, the families — most of them like-minded transplants from big cities largely in their 30's — decided it was time to create a permanent Jewish community in Benton County. They bought a former church and renamed it Congregation Etz Chaim, or Tree of Life. A dozen families quickly turned into 20 families, then 40.

Let's see now, a year ago the very same story was largely religion neutral. And you Mister Barbaro were working for the Washington Post, where it first ran. Now, you're at the NYT's and the story has been regurgitated/changed. For what purpose? To what end?
'

Upscale Tastes Invade Wal-Mart's Hometown

'
Migration of High-Priced Executives Transforms Arkansas County
By Michael Barbaro
Washington Post Staff Writer
Monday, June 27, 2005; Page A01
BENTONVILLE, Ark. --
Wal-Mart's folksy, baseball cap-wearing founder, Sam Walton, so despised public displays of wealth that, after his death in 1992, the billionaire's heirs decided to enshrine his prized possession, a battered Ford pickup, behind a simple storefront on the town square here.

But Walton's spirit of restraint is harder to find next door to the museum at Fusion, a new fine-arts gallery that sells $2,500 abstract paintings and $1,200 urns. Or at the nearby Landers Hummer dealership, crowded with $62,000 sport-utility trucks. Or inside Shadow Valley, a gated community where four-bedroom houses fetch $1 million.

Benton County, Ark., once a sedate backwater, is quickly morphing into a swanky, sushi-bar-filled enclave in the middle of the Ozarks. Wal-Mart's hard-nosed tactics and revolutionary store designs have transformed communities across the country, but none more so than its own home town of Benton County, Ark.

About 2,000 vendors have opened shop in 20 office parks near Wal-Mart's headquarters. The result is an unprecedented migration of high-paid executives to the northwest corner of Arkansas -- professionals from amenity-rich cities like New York, San Francisco, Atlanta and Miami, who bring not only their six-figure salaries, but an appetite for Jaguars, sushi, pet day-care centers, Gucci shoes and Chanel sunglasses.

Wal-Mart has produced a fair share of millionaires, but Walton's rigid code of humility -- even top executives stay at a Holiday Inn when traveling on the company dime -- remains deeply ingrained in the company's culture, discouraging conspicuous consumption. Wal-Mart's suppliers, however, honor no such vow of modesty.

In Rogers, just north of Bentonville, nattily dressed executives from Kellogg Co. and Colgate-Palmolive Co. sip lattes and lunch on cold Thai salmon at the Market, a gourmet grocery store that offers sushi-making lessons. Up the street, at Murphy's Jewelry, the latest Versace fashion show flickers on a flat-panel television and $100,000 necklaces glimmer from behind a glass case.

From 1990 to 2000, Benton County's population jumped 57 percent, to 153,406 from 97,499, while the average household income rose to $40,281 from $26,021, according to census data.
I've left out any injection of snide snarkery from the body of either post. I felt that they (and the contrast) simply speak for themselves (though one could argue all the talk of "money" in the second, original story, is code? What did those Jooos do to Mr. Barbaro in the intervening year to make him come out of the closet?).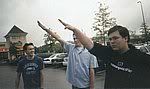 I feel dirty. I need a cigarette.
11:50 a.m.
Gawker sez Barbaro is Jewish.
(And petite).