Of Poverty Pimps, 'Peace' Profiteers, and al-Reuters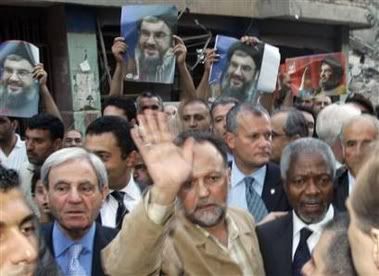 The world's insanity continues unabated ..... Reuters continues to joyously sugg their own deek. While Kofi polishes his brass to a mighty high lustre. And Jesse gets yarmulka widdit.
Annan flies to south Lebanon
BEIRUT (Reuters) -
Secretary-General Kofi Annan flew to south Lebanon on Tuesday to see the devastated region ..... Annan landed by helicopter in the southern town of Naqoura .....He was expected to fly over border areas that bore the brunt of Israeli air strikes and artillery shelling ....
Annan is seeking to turn the truce into a lasting ceasefire ......

"Without the full implementation of resolution 1701 I fear the risk is great for a renewal of hostilities"

he said.
(How many sides of one's mouth can a person speak out of at the same time?).

The war cost the lives of nearly 1,200 people, mainly civilians, in Lebanon, as well as 157 Israelis, mostly soldiers.
[Woohoo Reuters! Gosh I love this one ..... the implication being, that only civilians died in Lebanon (no Hezbollah). And that only Israeli soldiers died (no civilians). And those Israeli soldiers, died while they were killing Lebanese civilians. Aaah Reuters, sniff .... sniff, what a smell].
At his news conference in Beirut, Annan urged Hizbollah to release (the) two Israeli soldiers .....
[But only if he or Jesse get the credit ...]
"The secretary-general offered his good offices" to settle the issue, Annan's spokesman Ahmad Fawzi said on Tuesday.
[Maybe if we changed the wording a little bit? How bout: "The secretary-general offered his good
orifices
" to settle the issue (?)]
Ekmeleddin Ihsanoglu, the head of the Organization of the Islamic Conference, told Reuters on Monday he expected Muslim countries to pledge around 7,000 troops (to UNIFIL).
(Everyone can go home now!)
Everyone that is ..... except Hezbollah
Hezbollah building bunkers near Israeli border
JERUSALEM –
Hezbollah, with the help of Iran, has started building underground war bunkers in Palestinian camps in south Lebanon just a few miles from the Israeli border, according to senior Lebanese officials.
And now for something completely different ....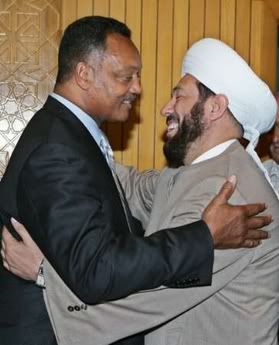 Rev.

Jesse Jackson discusses prisoner exchange with Hamas leader
Jesse Jackson met with Hamas leader Khaled Mashaal in Syria and offered to mediate a(n) prisoner swap .... During their meeting Sunday night, Jackson offered to broker a deal "to release the Israeli soldier captured by the Palestinian

resistance

"
Let's see now ....... Hezbollah are doling out fresh, crisp American hundred dollar bills. By the suitcase full, in Southern Lebanon (courtesy of Moo Moo Ahmadinejad). What are the odds that the world's two largest poverty pimps would then show up in the region? Gott'z your bookie on the phone, huh? Ask him whadd dah odds are that one of those there suitcases somehow ends up on Kofi's helicopter? Or is magically secreted in one of Jesse's steamer trunks? If I wuzz a bettin' man ........
And just because

Jesse's standing on foreign soil

, that won't stop him from

criticizing his country and its leaders

(just the kind of guy he is).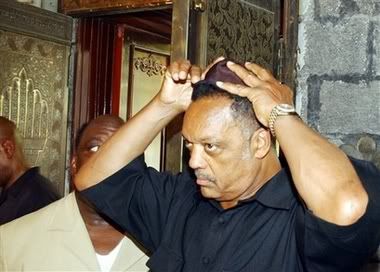 And it certainly won't stop him from whoring for Militant Radical Islam (just the kind of guy he is). 'Look hyar Hymie' he sez to the camera ..... 'see me put on a Yiddisha doo-rag' (in a Jewish temple, in Damascus). 'See, I'm down with my Joo brothers too ..... bwahahahahahaha'
Even Hamas is confused by all the Bullsh*t
Hamas figure slams Gaza 'anarchy'
The Gaza Strip is in the grip of anarchy and Palestinians must stop blaming Israel for all their problems, a senior Hamas figure has said.

Ghazi Hamad, chief spokesman for the Hamas government, said the hope that followed Israel's pull-out last year had been replaced with "a nightmare".

Gaza is at the mercy of thugs, he said, and pleaded for an end to deadly clan rivalries ..... "I am not interested in discussing the ugliness and brutality of the occupation .... instead, I prefer self-criticism and self evaluation," Mr Hamad wrote. He said life in Gaza City now involved "unimaginable chaos" .....

And he was also critical of militants who fire crudely-made rockets into Israel, saying ordinary Palestinians paid a high price when Israel responded militarily to such attacks. Mr Hamad said Gazans should stop laying the blame for their mistakes at the door of the Israeli occupation.
Since this little goofy tidbit is courtesy of the Beeb, I did have to check my calendar. And apparently it is not April fool's Day today. Now I'm confused.