Getting your panties in a bunch. European Union style.
Adult theme/image, readers are advised.
From The Brussels Journal
In an effort to make the EU more sexy the Austrian authorities decided to subsidize a publicity campaign with a series of 150 posters. 75 artists from various places in Europe were asked to each make two posters, but some of them apparently took the request to present the EU in a sexy fashion too literally.

The adult content advisory applies to these two links as well, containing photos of two submitted posters (group sex).
http://kurier.at/bilderdestages/1226956.php/picture/2
http://kurier.at/oesterreich/1227933.php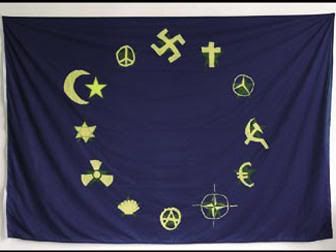 One of eleven shown online as a jpeg.
The Tookie Williams Eight Tre Crips' Stadion Graz-Liebenau .......

Another thing we learn is that one of the ideas in circulation was to name the stadium after the Crips, the gang that Mr. Williams founded.