Hobbies in militant radical Islam.
2) Wife beating
4) Preaching intolerance and hatred (see: Jew)
6) Watching beheading videos.
8) Reading about bomb making (who do we obliterate).
9) Discusssing killing people (see also: the Jew).
10) Dreaming about killing [see: wet dream, red (let's all go to Islamic heaven)].
11) Sister killing (see: honor)
12) Blowing up large numbers of people in crowded places.
13) Kidnapping people .... killing them. Then - making a video (see number six).
Recent news articles got me thinking about what actually comprises the life of a militant radical Islamist. I haven't read the Quran, but am grateful to those of you who have shared it's resplendency. And I'm still amused how the left doesn't care to see it for what it is. Hog joked, why don't the current crop of flower children held captive in Iraq, talk glorious peace? And their captors will then just set them free. I thought a little different. Why don't the peace now types just join their captors? I mean they are already there. They are already in the terrorists' company. What more do they need? Some funny hats, a large kitchen knife or machete. A serious and lofty sounding Islamic nickname.
Yes you too can star in your very own death cult video. Call 1-800-Moonbat-no-more. And your information package will be rushed to you speed delivery. No obligation. Call now. Gangrenous pustules are standing by.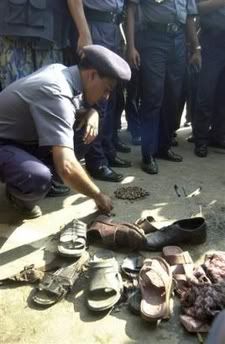 Bangladesh, November 29.
Family destroyed.
We don't need no stinking signs.
Read our f*cking minds.
Picnic? Tea party? Sure ... bring some tofu.
a missile attack triggered a huge explosion in a stockpile of bomb-making materials, grenades and other munitions.
a bomb had been found at a high school in southern Feni town just as classes were to begin. Children attend school on Saturdays in Bangladesh.
Suspected bomber Abul Bashar, who lost his two legs, lies on a hospital bed under treatment in Bangladesh's northern Chittagong town