A Billion Little Mohammeds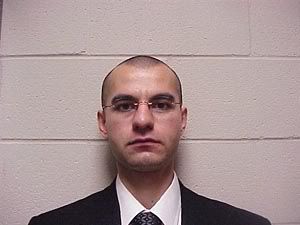 The university police department, confirmed Saturday that Mohammed Reza Taheri-azar, a 22-year-old Iran native, told investigators he wanted to "avenge the deaths or murders of Muslims around the world."
Hey Rob Reiner you fat f*ck, where is the fifty cents per can tax on soda pop? So you can create another do nothing rob from the poor, California bureaucracy.
"Nutritionists see sodas as the 'cigarettes' of obesity."
Yep, you guessed it ..... Bush's fault (again).
'Cemetery Prices Jump After Parks Buried'
(AP)
The price to get a spot in Detroit's Woodlawn cemetery has jumped thousands of dollars since civil rights icon Rosa Parks was entombed there last fall, angering some relatives who say it cheapens her legacy.
The spaces in the Rosa L. Parks Freedom Chapel were priced at $17,000 before the cemetery gave spots, for free, to Parks, her husband and her mother. Now, the spaces cost $24,275, and possibly as much as $65,000 for the slots nearest to Parks' crypt.
My kingdom for a crack pipe and some Prokofiev.
HARTFORD, Conn. (AP) - Residents of one Hartford neighborhood hope Beethoven and Mozart will help drive drug dealers and prostitutes out of a local park.

I'm betting those damn Jooos have something to do with this (right Ahmadinejad?).
BAR HARBOR, Maine — When it comes to the price of mice, you pay extra for defects. A mouse with arthritis runs close to $200; two pairs of epileptic mice can cost 10 times that. You want three blind mice? That'll run you about $250. And for your own custom mouse, with the genetic modification of your choosing, expect to pay as much as $100,000.

Mean, mean, mean Mr. Bush. Mr. Bush very, very mean man.
'White House Trains Efforts on Media Leaks'
"Sources, Reporters Could Be Prosecuted" (Say it isn't so mean Mr. Bush).
By Dan Eggen
Washington Post Staff Writer
Sunday, March 5, 2006; A01

The Bush administration, seeking to limit leaks of classified information, has launched initiatives targeting journalists and their possible government sources. The efforts include several FBI probes, a polygraph investigation inside the CIA and a warning from the Justice Department that reporters could be prosecuted under espionage laws. In recent weeks, dozens of employees at the CIA, the National Security Agency and other intelligence agencies have been interviewed by agents from the FBI's Washington field office.
And the Washington Post has a spontaneous orgasm.
"There's a tone of gleeful relish in the way they talk about dragging reporters before grand juries, their appetite for withholding information, and the hints that reporters who look too hard into the public's business risk being branded traitors," said New York Times Executive Editor Bill Keller.
Branded? Wouldn't that hurt? Shoot, I'll just settle for long prison terms.

Army of specially trained mice invade Iran.
Ahmadinejad detained for psychiatric help. Heard muttering: "those f*cking dirty Jooos," while being dragged away.
'Report: IDF forces operating in Iran'

Israeli special forces are working in Iran to locate the precise sites at which Iran continues to enrich uranium, a British newspaper reported Sunday. According to the Sunday Times article, the Israeli team is based in northern Iraq and has the support of the United States.

Better one man who fears no evil. Than a world full of cowards.
'Roger Waters to perform in Israel in June'