The Associated Press said what?!
jpeg
CNN replaces its US chief
By DAVID BAUDER
AP Television Writer
"CNN slipped behind MSNBC into third place this year in its prime-time ratings (ed: how low can you go?), where Fox News Channel remains a dominant number one. Cable news
viewers have increasingly become interested in hearing news filtered through strong, partisan viewpoints and CNN has resisted that approach for fear it would hurt its brand as an impartial news source
."
Lather ... rinse ... repeat:
Down On The Farm With Michelle Obama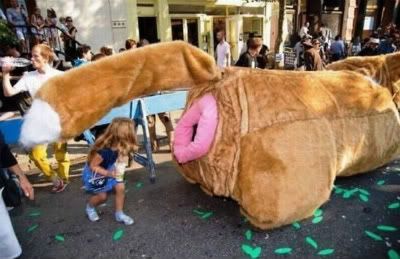 "
Many kids may never learn that ketchup comes from a tomato and french fries from a potato
, Mrs. Obama said ... The day's meal was prepared by the restaurant's chef ... as well as three White House chefs who flew up for the occasion ... (to) Blue Hill at Stone Barns (one of the most renowned restaurants in the New York area), where the women lunched ... Mrs. Obama, wearing a themed print dress by designer Tracy Feith ... (and) silver ballet flats ... The spouses were serenaded by a string quartet from the Juilliard School in New York City as they ate."
Addendum, Monday September 27, 10 p.m.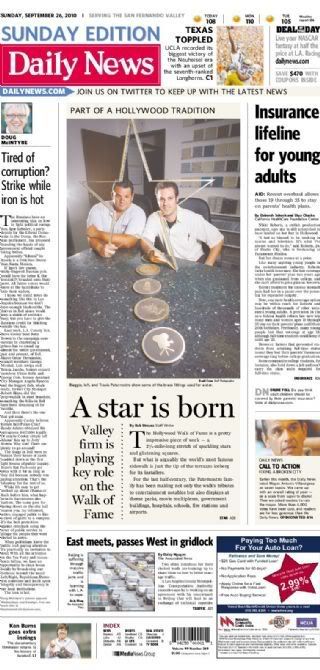 jpeg
No longer content to run only unadulterated Associated Press shite, on the front page [or even (unbelievably ... 3/4 page) full color reproduction of studio supplied/created art/ad/poster for the
anti-white movie/bloodfest ...
Machete
... on the front page (yeah, that's right ... the front page ... as
earned media
)].
No, Carolina Garcia (
editor
... turdmonkey extraordinaire, of the L.A. Daily News) now resorts to scraping the very, very bottom of the propaganda barrel ["
Insurance lifeline for young adults
" by Deborah Schoch and Diya Chacko/California Healthcare Foundation Center (WTF is the California Healthcare Foundation Center? You ask [I sure the f*ck did])].
"Welcome to the California HealthCare Foundation Center for Health Reporting,
a new venture in
journalism
... The center operates out of the USC Annenberg School for Communication & Journalism and is funded by the California HealthCare Foundation, with a three-year, $3.285 million grant."
"The Center('s) ... partnering with
news organizations
... to explore questions about the quality and costs of health care and ... Californians' ... access ... The center ... is actively seeking media partners — newspapers, broadcasters and new media — to cooperatively pursue health stories of local and statewide interest."
"While affiliated with USC Annenberg and funded by the California HealthCare Foundation, the center is an independent news organization with no agenda but journalism excellence."
If you say so twinkletoes ... geebus ... judging by the one, singular (ridiculously/utterly stupid/amateurish) 'article', that Carolina Garcia pasted on the front page above the fold, on Sunday. One can only channel Eddie Murphy's Yiddisha/Chinese shopkeeper: $3.2 million ... vutt a bah-gin!
Lather ... rinse ... repeat ...
The innernets ... run away ... run away!
"Although you rarely hear racial insults on Main Street these days, there's a place where unashamed bigotry is all too easy to find: tossed off in the comments sections of some of the Internet's most popular websites, today's virtual Main Street"
Lesse ... duzz I even need ta glance roun' the sphere ... an AP
writer
with a name like Jesse Washington? Huh?
Roll the dice elmo ... shoot the works!
Lather ... rinse ... repeat ...
"a new AP-GfK poll shows ...
Democrats struggling to defend their control of Congress have lucked out in one way: Republicans are at least as unpopular as they are, the
poll
shows."
Lather ... rinse ... repeat ...
And some more, from the sh*tfest known as the L.A. Daily News (prominent on Thursday's editorial page):
I see white people!!!!
"Nearly every weekend this summer checkpoints were mounted along busy Southland arterials. An intimidating cadre of well-armed police ...
(If you) speak Spanish ... you're in trouble ...
My wife and I recently had a front-row seat to checkpoint discrimination ...
everywhere police are seizing cars from unlicensed drivers, the overwhelming majority of whom are Latino."
Related:
YouTube direct link/URL