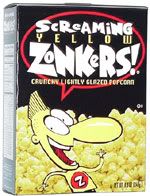 why im so glad im not a Right Wing Blogger in 2005-2006 or a member of Pajamas Media
by tony pierce, 112

you can debate whether BushCo knew that Osama was determined to strike inside the US a month before 9/11 .....

so it got me thinking, if BushCo has at least $100 million to spend on name-changing media spinning company in Iraq... do they have $3.5 million to spend on a name-changing media spinning company in America.

if RoveCo had no problem funding conservative journalists in the mainstream press to reward/encourage them to continue to write pro-Bush columns, it seems to me that $3.5 million to secure 70 big-time bloggers via multi-year contracts would not only be in line with the history of this administration, but a bargain at twice the price.

i am saying that in light of the latest example of Propaganda from Above - Pajamas Media is starting to look fishier and fishier.

yes i believe that if this administration has $100 million to spend on propaganda overseas, that it has a few million to spend corralling willing and loyal bloggers here in america.

the only question is, when will we find out who those bloggers on the take are, and what will happen to their reputations once they're outted.

developing...


Addendum; Tuesday, December 6, 9:12 a.m.

Anechoic Room has all the latest updates on this late breaking major news story. Quarantines are possible says the CDC in Atlanta, to contain this enormous outbreak of Bush Derangement Syndrome.
Open Trackbacks:
Outside the Beltway's, OTB Caption Jam and Saturday Traffic Jam
http://www.outsidethebeltway.com/archives/12866
Stop the ACLU's, Weekend Party for the Politically Incorrect
http://stoptheaclu.com/archives/2005/12/03/weekend-party-for-the-politically-incorrect/
Wizbang!s Carnival of the Trackbacks XXXX
http://wizbangblog.com/archives/007720.php