If I die before I wake, I pray you bomb Iran and make it a glass lake.
Iran Focus - Tehran, Iran, Feb. 06 – Iranian authorities hanged three men in the north-eastern town of Sabzevar.
The three, dubbed "trouble-makers", were charged with threatening security. The "Plan to Combat Trouble-makers" was initially launched in Tehran in September and soon spread to cities and towns across the nation. Thousands were arrested within a period of several months on various charges such as "

loansharking

".

Who knew there were any Jews still left in Iran?
Iran Focus-London – United Nations Secretary General Kofi Annan called on Iran on Monday to take "confidence-building measures" so that it could return to the negotiations table.
Strains of the James Bond OO7 movie theme song, Nobody Does it Better could be heard [of course just because Kofi CAN sugg his own deek, doesn't mean I wan't to watch/see].
Roy Roger's missing horse Trigger, located in Iran.
Tehran, Iran, Feb. 07 – Iran's Defence Minister ... Speaking at a ceremony ... Brigadier General Mostafa Mohammad-Najjar said, "The armed forces of the Islamic Republic of Iran enjoy a unique superiority in asymmetrical defence in the entire region."
Why that's just silly. Israel sees your ass metrical defense and raises you an asymmetric offense. See you, buh bye.
Kim Howells: 'Iran is only going down the path of nuclear enrichment to make a bomb.'
Haven't read it .... though I rather agree with the title. But then you already knew that.
Behind the Urgent Nuclear Diplomacy: A Sense That Iranians Will Get the Bomb.
And the NYT's plans to party like its 1999 [like every other commie rag (haven't read this one either ... why bother?)].
JPost.com » Op-Eds & Letters » 'Speed up on Iran.' Some real sanctions, and add some mighty prayers? Or is it just hippies dosing the JPost's coffee?
Opinion/In the shadow of Iran's nuclear threat. By Abbas William Samii.
Just good little terrorists, nothing to worry about, bomb you say? Oh, what's a little nuclear bomb or three among blood swilling insects. I mean really?
Today four ..... tomorrow?
Caricature clash with NATO troops turns deadly. Four Afghan deaths reported in latest protest by Muslims over images.
And finally .... fun with captions: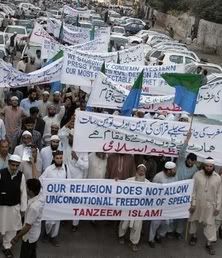 Really sh*theads? Why that's too bad. Seems like you won't be able to participate in Anechoic Room's very first caption contest then. Like ummm, let me see? How bout target rich environment?
Or part two of our very first caption contest (it's freakin' Christmas I tell ya!) ..... like oooh, Charmin: now comes in handy flat pack.