Chirac arrested in Riyadh, caught spanking (his) monkey in public.
'Peugeot, Citroen to buy auto parts from Iran'
'Chirac says way still clear for deal with Iran'
LONDON, March 6 (IranMania) -
French President Chirac (in Riyadh), said the West would still reach out to Iran for a deal on its disputed nuclear file, in the first address to the Saudi consultative council by a foreign leader. Despite the failure of negotiations ..... "the hand remains stretched out, and Iran can, at any moment, take it back by restoring its commitment to suspension of sensitive (nuclear) work".
The Shura Council president Sheikh Humaid praised Chirac ("the president of the friendly French republic") ..... "The foreign policy of your government is marked with political wisdom," "events (in Iraq) have shown that foreign interference in the affairs of nations is not in the interest of people nor world peace."

Accompanied by France's trade ministers and more than a dozen businessmen, Chirac aims to advance talks on the sale of French Rafale fighters and a border monitoring system. The deal with French aerospace group Dassault Aviation is reportedly worth up to six billion euros ($7.2 bln), while defence manufacturer Thales is hoping to seal a seven billion euro ($8.4 bln) deal for its Miksa electronic monitoring system.
Hey Jack, any chance my son can get in on this deal?
Voondurbarr Herr Schroeder, Russian oil money for me too. What are the whores like in Moscow, Gerhard?
You know, I have a whole lot more Middle East salami to smoke, I better get a trim before my next meeting.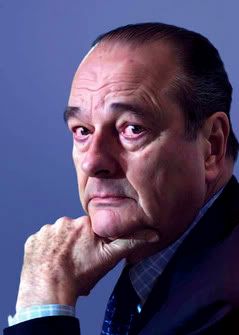 There, that's better.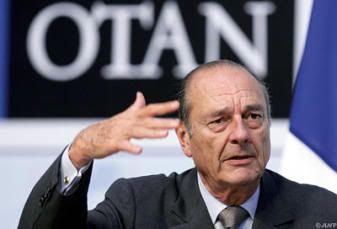 The Americans are just so unsophisticated in the ways of greed and double dealing sleazy international politics. They should just put a gun to their heads and pull the trigger.
And don't even get me started on Bush.
Tuesday, March 7.
'S. Arabia to host Israel boycott event'
Despite a promise made to Washington last November to drop its economic boycott of Israel, Saudi Arabia plans to host a major international conference next week aimed at promoting a continued trade embargo on the Jewish state. The kingdom continues to prohibit entry to products made in Israel or to foreign-made goods containing Israeli components, in violation of pledges made by senior Saudi officials.

"Next week, we will hold the ninth annual meeting for the boycott of Israel here in Jidda," Ambassador Salem el-Honi, high commissioner of the Organization for the Islamic Conference's (OIC) Islamic Office for the Boycott of Israel, said in a telephone interview. "All 57 OIC member states will attend, and we will discuss coordination among the various offices to strengthen the boycott."